Il Brolo
at your home
shop on line

cart
login
Our history
Let me introduce myself. I'm Patrizia Rampa and it is my pleasure to present the story of Il Brolo, an extraordinary story that encompasses my family's passion and my father's challenges; he is a visionary who turned a great dream into reality.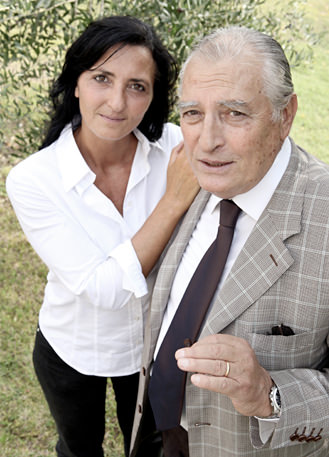 In 1993, my father Augusto and I, after a few years spent in searching for a property with large green spaces for our family to live on, we finally found a lovely place on the morainic hills of Lake Garda.
My father realized his dream of living in the great outdoors where his grandchildren could play safely and grow mainly in contact with nature along with his strong desire to preserve the wonderful existing crops, vineyards and olive groves.
My father's challenge and desire to get involved, started when he discovered a newspaper article about a stainless steel oil mill in.
The year was 1998; he fell in love with this type of process and after buying the oil mill, he became deeply involved in the first production.
The decision to produce our Extra Virgin Olive Oil was due to our passion for food, but also to the difficulty in finding products on the market that could meet our expectations.
In the beginning our production was mainly for self consumption and gifts to the customers of our main company.
Thanks to our passion and desire to promote this product, my father began to sell our first bottles of Il Brolo Extra Virgin Olive Oil in 2009.
The quality and genuineness of our Extra Virgin Olive Oil instilled in us the desire to introduce it into a doubtlessly difficul market, strong of our experience and knowledge gained over the years.
I'm really glad that this adventure has begun.
I'm even happier about being able to share our oil with all those who, like us, seek real flavors that are simple and authentic.
The history of Il Brolo Azienda Agricola continues, every year more and more involving and inspiring, in the respect of the environment and our customers, with ethics and professionalism.

This site aims to promote and spread the culture and knowledge of "Olive Oil", to increase consumer awareness and conscious choices.

I invite you to discover our oil.